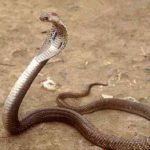 How to get rid of this?.To get rid of pest problem under control, inspection is the first and foremost step.
Snakes have several different ways to kill prey. Snakes eat such animals as frogs, salamanders, insects, worms, small rodents, and birds. Venomous snakes have sharp, hollow fangs designed to pierce the skin and inject venom. They are located in the upper jaw with venom glands connected above. When not in use, the fangs fold back onto the mouth. Nonvenomous snakes use constriction to subdue their prey. They bite the prey and quickly wrap themselves around it. The snake applies pressure until the prey usually suffocates. Regardless the method of capture, the prey is consumed whole. The lower jaw is hinged and can open to surprising sizes, allowing the snake to consume prey larger than their mouth would otherwise accommodate.
Whether snakes already populate your land or there's a worry they might, a couple of steps can help prevent a long-term stay. First, remove as much of their preferred habitat as possible. Snakes like something to hide in like wood piles, piles of debris, high grass and overgrown vegetation. If such harborage is removed, snakes will relocate. Second, seal any openings leading into structures (homes, outbuildings, garages, etc.).
SNAKES
CONTROLSnakes are elongated, legless, carnivorous reptiles of the suborder Serpentes that can be distinguished from legless lizards by their lack of eyelids and external ears.We can get rid of diifferent types of techniques.
Thickly-planted gardens, Mulch (especially straw mulch) in the gardens,Tall grass (you mentioned your grassy hill–prime snake habitat),Bird feeders (which attract mice & insects, which attract snakes),Ground-level water sources (birdbaths, ponds, puddles, etc.),Compost piles,Wood and brush piles (any wood on the ground where they can hide)Ground-level access to buildings — under the porch, garage, crawlspace
The ClearZone Man can come periodically to monitor your premises and help prevent an infestation with SNAKES.
WE PROVIDE HIGHLY EFFECTIVE, HASSLE-FREE AND SAFE WORK.