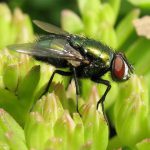 How to get rid of this?.To get rid of pest problem under control, inspection is the first and foremost step.
The average life span for a house fly in the wild is less than one month. Houseflies pass through the egg, larval and pupal stages in approximately 10 days, after which adult flies emerge. House flies cease growth after emerging from their pupae.
House flies are covered with small hairs that serve as taste organs. Their compound eyes are extremely complex: thousands of individual lenses allow them a wide field of vision.
House flies are major carriers of disease. They are known to transfer over 100 pathogens resulting in ailments, including typhoid, tuberculosis, cholera and dysentery. House flies collect these pathogens on their legs and mouths when feeding on feces, trash and other decaying material.
FLIES
CONTROLThe house fly has a gray thorax with 4 dark, longitudinal stripes.There are so many devices to kill the flies.
Flyswatter usually consists of a small rectangular or round sheet (some 4 inches (10 cm) across) of lightweight, flexible, vented material (usually thin metallic, rubber, or plastic mesh), attached to a lightweight wire or plastic handle about 1 foot (0.30 m) to 2 feet (0.61 m) long.Fly gun a derivative of the flyswatter, uses a spring-loaded plastic projectile to mechanically "swat" flies.Fly bottle,Disposable fly traps,
Flypaper (also known as fly paper, fly sticker, fly strip, fly ribbon, or fly tape) attracts flies to sticky adhesive so that they can be trapped.Electric flyswatter are hand-held devices that resemble badminton rackets or tennis rackets, which became popular worldwide in the late 1990s.[citation needed] US Patent 5,519,963 was awarded to Taiwanese inventor Tsao-i Shih in 1996 for such a device.
The Clearzone Man can come periodically to monitor your premises and help prevent an infestation with FLIES.
WE PROVIDE HIGHLY EFFECTIVE, HASSLE-FREE AND SAFE WORK.